Important Information
1) Pre-registration is MANDATORY through the parish website registration portal for all Masses and Services. WALK-INS ARE NOT ALLOWED!. (WhatsApp, Email or Verbal registration is not valid)
As long as the mass schedule table in the registration portal shows positive available seats, you may proceed to register. In the event that you cannot secure a seat, please do not despair. We will be live-streaming all Masses and Services and you can still follow us on-line.

2) Masses are opened to those who have received 2 doses of Pfizer/ Astrazeneca/ Sinovac vaccine and completed at least 14 days from the date of the second dose
OR 1 dose of Johnson & Johnson/ Cansino vaccine and completed at least 28 days from the date of vaccination. Please refer to "Children under the age of 12" section regarding the SOP guidelines for children who intend to attend Mass.

3) Your MySejahtera must show that you have "Low Risk and No Symptom" or "Casual Contact and No Symptom".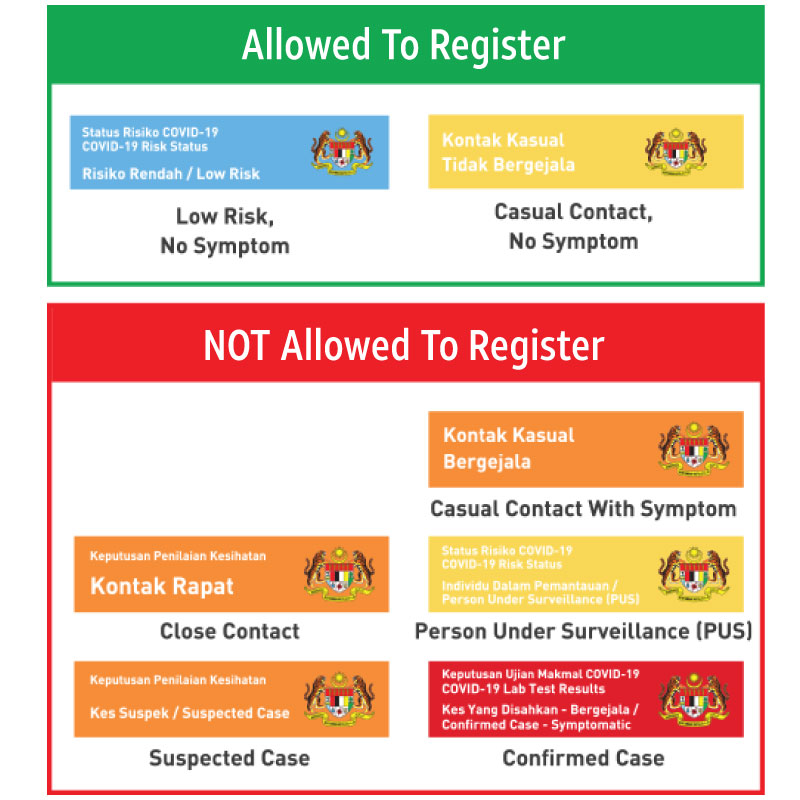 4) Register ONLY IF you are sure you will attend mass. Do be mindful that as seats are limited, every available seat is precious.

5) Before submitting, CHECK your details (DO NOT submit twice. If you think you've made a mistake, please Submit an Enquiry using the "Contact Us" link)

6) Click SUBMIT and if your registration is accepted you should see a GREEN CONFIRMATION with your registration code. You are DONE! (email confirmation is optional)
You can check your registration code by tapping/clicking on the "History" button on top of the page or use this link.

7) Repeat the same steps for EACH Family Member who are attending together with you (please ensure that you only register ONCE for EACH member with the correct details)

8) Should you not be able to attend Mass/Service on the selected day(s) due to an emergency or for health reasons, you're REQUIRED to cancel your registration using this LINK at least one day earlier. This will allow other parishioners to register for your seat.

9) Do come AT LEAST 30 MINS BEFORE Mass/ Service begins. Mass Check-In begins 40 MINS before Mass/ Service begins.
10) The GATE WILL BE CLOSED 5 MINS before the Mass begins.
11) As the seats are limited, you may ONLY register once for any Mass over the weekend.
12) Wearing of mask covering MOUTH, NOSE and CHIN is MANDATORY throughout the Mass.

THANK YOU for your kind Cooperation, Understanding & Patience!🙏🏽
Please be informed that in view of the Chancery Notice dated 25-10-2021, unvaccinated children under the age of 12 are now allowed to attend Mass. This is however subject to the following "mandatory" conditions: -
1. The Child MUST be UNDER the age of 12. (Children with the age of 13 and above who are not vaccinated yet are still not allowed to attend Mass).
2. The Child MUST be accompanied by at least one fully vaccinated parent. (This excludes Uncle/Aunties or Grandparents).
3. The Child irrespective of age must pre-register for Mass and present his/her Mykid when requested at the check-in counter.
4. For reasons of management, the child accompanied with his/her parents will be seated at the Grotto side canopy (Pink Zone).
5. The Child must not exhibit any COVID-19 like symptoms.

Parishioners who intend to bring their children for Mass should also be reminded on item 3.4 of the Chancery Notice which states that children under the age of 12 are not encouraged to attend Mass. However, if they wish to, with parents' consent, the above SOP guideline must be complied with.
Thank you
VOLUNTEERS FOR ENGLISH CHOIR & ALTAR GIRLS
The Parish is calling out all those who are interested to join the Choir for sunset mass and Sunday Morning Mass (Youths) at 9.30am; and girls from standard 4 onwards who has received their First Holy Communion and are interested to join as Altar girls to kindly contact Florence @ 012-2854109.
VOLUNTEERS FOR PRISON MINISTRY
Calling for volunteers for English, Tamil & Mandarin speaking who are passionate in visiting the Prisons and able to reach out. Kindly contact David @ 013-9326747 or Jimmy @ 016-3112558.
VOLUNTEERS FOR MEDIA MINISTRY
Calling for volunteers for English, Tamil & Mandarin speaking who would like to help out in live streaming, slides projection or sound system. Technical guidance will be provided. Kindly contact Julian @ 012-9189061 or email to This email address is being protected from spambots. You need JavaScript enabled to view it.
RE ENGLISH IS LOOKING FOR CATECHISM TEACHERS
Anyone interested please contact Michael Rajasingam (RE CC) 019-3148422 / Natasha Biggs (RE. Asst. CC) 012-6381638
TUITION FOR B40 CATHOLICS AT SENAWANG
Tuition is scheduled to begin from 20th Jan 2022 @ Taman Tunku Najihah Community Centre for subjects; Sejarah Form 4 & 5 and Maths Form 3. Qualified teachers for Primary and Secondary who are willing to volunteer their services to teach BM, English and Maths, please contact Elizabeth @ 012-6061497.
Registration for Mass
I hereby acknowledge that:
I have read and agree to all the information in the "Important Information" section


I am physically healthy and not exhibiting symptoms of fever, sore throat, cough or shortness of breath


I did not have close contact with a COVID-19 patient in the last 14 days


FAQ
How do I know whether my registration was successful?
You should see your registration code and a QR code, like the example shown below.
Must I note down or screenshot my registration code?
We strongly encourage parishioners to do so as this will ease the verification process when you arrive at Church.
What if I don't remember my registration code?
You can check you registration code by tapping/clicking on the "History" button on top of the registration page.
Who do I contact if I have futher questions?
You can use this online form to contact us.

Registration related matters:
This email address is being protected from spambots. You need JavaScript enabled to view it.

SOP related matters:
This email address is being protected from spambots. You need JavaScript enabled to view it.